Energy Management System
Target
˙Information system for
Monitoring energy consumption
Analyzing deviations of energy consumption from a plan (target)
Root Cause Analysis of deviations
On-line presenting to users
Reporting
Prerequisites
Consistent (validated) data about

mass balance (throughputs, yields)
balance of utilities (energy balance)

See RECON about Data Validation and Reconciliation.
Theoretical target (model) of utilities consumption. Models of increasing complexity

constant specific consumption (GJ/t of feed, ...)
influence of Modes of operation, raw material, product quality
influence of the feed throughput
ambient temperature
...
Models can be created by evaluation of historical data, benchmarking, theoretical analysis, ...
Model should be present in a company+s documentation (Databook, ...).
Important attributes of EMan
Models (targets) can be dynamic, to reflect changing conditions during production (throughput, ambient temperature, feed quality, modes of operation, ...)
Results should be based on validated primary data
Respects multidimensionality of the problem, especially the site - utility - time dimensions
Comparing the real consumption of utilities with a target calculated from a model
Structure (hierarchy of the Site dimension Company - Plant - Process Unit)
Possibility of aggregation in all dimensions
Trends in the time dimension
Impact of subsystems on characteristics of the system
Energy consumption can be expressed in energy or in other units (money, CO2, )
Application of RCA method (Root Cause Analysis) - the drill down to identify causes of high energy consumption (http://en.wikipedia.org/wiki/Root_cause_analysis).
3 Main dimension of the energy analysis
The Energy OLAP (On/Line Analytical Processing) cube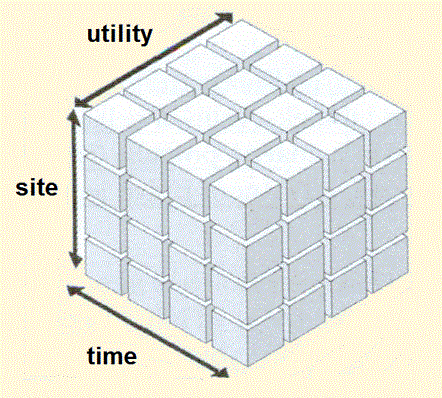 A tree structure of a company
Company
Plant
Process units
Equipment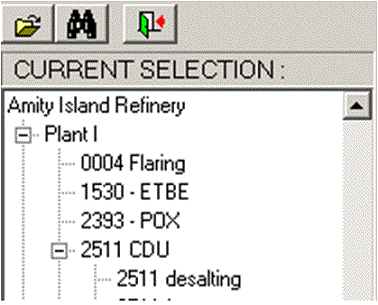 Relative Energy Demand (RED)
The key variable used in energy consumption analysis is RED - Relative Energy Demand


where target is a value calculated from the Company energy model.
RED = 100 means a neutral energy consumption, just according the plan.
RED expressed in money units is colled Relative Money Demand (RMD).
The Energy Dashboard